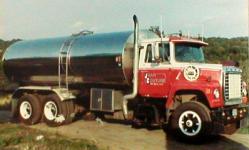 Couture Trucking began operating on May 6, 1976. Jean Couture, founder of Couture Trucking, had been working for his father's business, Couture Excavating. Jean loved working outdoors and especially loved the trucking aspect of the job. However, excavating was seasonal, and with a growing family, he needed employment that would provide for his family year round.
Hearing of a bulk milk route for sale, Jean saw an opportunity to have year round work that would allow him to continue doing what he loved most, trucking.
Couture Milk Transport was soon up and running in a short time. Their first employer was H.P. Hood. In 1980, Hood and Agri-Mark were one, and more employment opportunities arose when Cabot Coop hired Couture Milk to take over 60% of their customers.
With the milk business growing, it was time for Jean to expand. He purchased six more units, which allowed the pick-up of over 100 dairy producers daily. At this time, milk pick-ups were done with a straight truck, which then had to be reloaded onto tankers.
In 1983, Agri Mark and Cabot began to realize that a straight truck delivering locally and reloading onto tankers was a waste of time and labor. Jean was approached and asked to set-up farm pick up trailers that would go directly to different areas of Massachusetts, New Hampshire, and Rhode Island.
The demand of this new system required twice as many trucks, and the six units grew to twelve units. As the years passed, small haulers were selling out, which allowed Couture Milk to purchase more equipment. By 1987, Couture Milk had 22 units, 31 drivers, and 4 full time technicians in the shop. All dispatching and bookkeeping was handled by Jean and his wife Kathy.
Along with driving, Jean also over-looked all of the truck shop operation, with his right hand man, his son Dwayne. Dwayne quickly became acquainted with the in's and out's of trucking and how to work in a shop at a young age.
By 1988, Couture Trucking was in their 12th year of hauling milk. Due to the volume of the business, the operation was running seven days a week twenty-fours a day. Jean and Kathy realized their children were growing up too fast, and having a day off was only a dream.
During this time, opportunities for hauling dry bulk were being offered to Couture Trucking from Old Mill Inc. The opening of a dairy feed mineral facility in North Troy, VT would mean local work for 5 days. A decision was made, and the milk business was sold.
In August of that year, with the help of Agri-Mark and Cabot, 300 dairy producers were placed in other milk haulers care. The same equipment that was used all those years by Jean's milk business would still be used, but no longer under the name Couture Milk Transport.
Dry Bulk Transportation became Couture Trucking's new focus. It first started with dump trailers hauling from the Port of Montreal to North Troy, VT. Within five years, trucks were hauling to all the grain plants in New England and New York.
In 1995, Couture Trucking was approached with the idea of setting up pneumatic trailers. With pneumatic work being a specialized operating system, more doors of opportunity opened for Couture Trucking. Canada Maltage in Montreal, PQ contacted Jean also around this time to transport malted barley to breweries throughout New England.
During the mid 90's Dwayne knew he wanted to work side by side with his father, but felt there was something else out there for him. After graduating from high school, Dwayne enrolled in the Army. Once his service time was completed, he still felt his calling was to work with his dad. However, he decided he needed to learn more about trucks before making a commitment to the family business. He enrolled at Wyoming Technical School. By the time he graduated, Dwayne was qualified in diesel engine, transmissions, computer systems, and the aspect of all different units. With his knowledge, Couture Trucking gained a huge asset.
Today, the focus of Couture Trucking remains on dry bulk products, providing service to breweries east of the Mississippi River. Couture Trucking continues to transport malt from plants in Montreal and also through a rail transfer with Vermont Railway (via railcars and containers). CTI operates the rail transfer in Orleans, VT. Though the company is dedicated to handling process malt products, they continue to have a portion of the fleet strictly dedicated to feed minerals for Old Mill, Inc., North Troy, VT/St. Albans, VT.
Jean and Dwayne continue to work side by side. Emily, Dwayne's wife, is also involved in the family business, and a third generation has been added to their trucking and shop team. Dwayne and Emily's four children enjoy working in the shop with their Dad and Pepere. With three generations now helping with the family business, Couture Trucking will be seen for many more years.